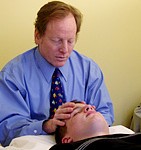 Temporal mandibular joint dysfunction (TMJ) refers to problems with the way the joint of the jaw is working. This condition can be brought on by stress, a habit of grinding one's teeth while asleep, an auto accident, or other causes.
TMJ can trigger debilitating headaches; cause acute pain in the face, neck, or shoulders; make the jaw grind, crack, or even lock up; and create troublesome ear problems, such as ear aches and dizziness.
Sources. Office of Disease Prevention and Health Promotion, U.S. Department of Health and Human Services; TMJ Association; Asclepeion Center for Body Mind Therapy.
Working integratively and individually, Asclepeion Center staff have had marked success in alleviating the negative effects of a variety of disease states and health issues.
To discuss what particular treatment protocols may be appropriate for any specific health issue, please contact the Asclepeion Center, (301.495.0933) to talk over your individual medical situation. For more information on what we do, see About Us and Services sections of this website.
Many people who come to us feel they have already gleaned the positive effects of treatments offered by traditional medicine. Others want to explore possible synergies drawing upon holistic alternatives. Center staff are always glad to work cooperatively with any practitioners—both traditional and non-traditional—that a client desires.