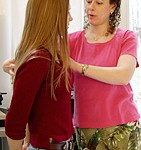 Muscular-Skeletal Pain
Muscular-skeletal pain is discomfort that may be felt in just one part of the body or may seem to affect the trunk and entire support system of the body. This type of pain may result from brain and spinal cord injury, scoliosis, postural imbalances, headaches, cranio-sacral imbalances, dental problems, and other causes.
Muscular-skeletal pain may be experienced in varying degrees of severity in response to known or unknown stressors. It may arise from a specific accident or stress, or be related to a separate chronic condition. It may come and go and vary in severity. When severe, it may interfere with daily life at all levels.
Source. Asclepeion Center for Body Mind Therapy.
Working integratively and individually, Asclepeion Center staff have had marked success in alleviating the negative effects of a variety of disease states and health issues.
To discuss what particular treatment protocols may be appropriate for any specific health issue, please contact the Asclepeion Center, (301.495.0933) to talk over your individual medical situation. For more information on what we do, see About Us and Services sections of this website.
Many people who come to us feel they have already gleaned the positive effects of treatments offered by traditional medicine. Others want to explore possible synergies drawing upon holistic alternatives. Center staff are always glad to work cooperatively with any practitioners—both traditional and non-traditional—that a client desires.