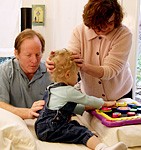 Learning disabilities are disorders that affect the ability to either interpret what one sees and hears or to link information processed in different parts of the brain. These limitations can show up in many ways–as specific difficulties with spoken and written language, coordination, self-control, or attention. Such difficulties extend to schoolwork and can impede learning to read, write, or do math with age-appropriate facility. In some children, overlapping learning disabilities may be apparent. Others may have a single, isolated learning problem that has little effect on other areas of their lives.
Some children with learning disabilities have striking gifts, often in creative areas.
People tend to carry a learning disability into adulthood—although some develop ways to cope and compensate for the problems, minimizing their weaknesses and making the most of their strengths. Yet the stress resulting from having unusual "hard wiring" in the brain may continue.
The Asclepeion Center works with children and adults with learning disabilities.
Sources. Office of Disease Prevention and Health Promotion, U.S. Department of Health and Human Services; Asclepeion Center for Body Mind Therapy.
Working integratively and individually, Asclepeion Center staff have had marked success in alleviating the negative effects of a variety of disease states and health issues.
To discuss what particular treatment protocols may be appropriate for any specific health issue, please contact the Asclepeion Center, (301.495.0933) to talk over your individual medical situation. For more information on what we do, see About Us and Services sections of this website.
Many people who come to us feel they have already gleaned the positive effects of treatments offered by traditional medicine. Others want to explore possible synergies drawing upon holistic alternatives. Center staff are always glad to work cooperatively with any practitioners—both traditional and non-traditional—that a client desires.